Subgenus Hymenanthes
Section Ponticum
Subsection Pontica
See Where This Species Is Found
See more photos at the Smith-Mossman website
Shrub 2-4m; young shoots and petioles soon more or less glabrous. Leaves (6.5-)8.5-12(-17) x 3-5.2(-7.5cm), broadly elliptic, apex acute to minutely apiculate, upper and lower surfaces glabrous when mature.
Flowers 10-20, in a dense truss;calyx ca 1mm; corolla white to pink, with yellowish flecks, broadly campanulate, without nectar pouches, 30-40mm; ovary densely rufose-pilose, style glabrous.
-10 to 0F
May-June
Western seaboard of America.
Source: The Rhododendron Handbook 1998; Published by the Royal Horticulture Society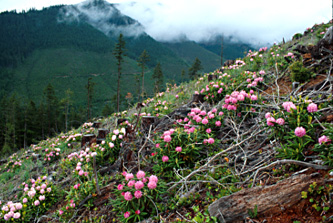 R. macrophyllum
Upper Little Quilcene River, Washington
by Dennis Hendrickson
R. macrophyllum
Tunnel Creek, near Mt Townsend, Washington
by Dennis Hendrickson